NGMA Update-NGMA Update July 16, 2020 Edition

Dear NGMA Community,

On behalf of the National Grants Management Association's volunteer leadership and from me
personally, I just want to take this opportunity to thank you for your commitment to Grants
Management and the NGMA community. It certainly has been a tumultuous few months in our
country and the world, but there is a beaming sense of pride that you are serving on the front lines
and although times are challenging, all of us have the opportunity to have a profound effect on our
people and our communities.


I also want to thank our wonderful NGMA leadership and staff who have accepted the responsibility and duty to work hard to serve you and make sure you have the latest tools and trainings so you can focus on making an impact with the essential resources that this responsibility requires. All of us are "juggling", while never losing sight that our utmost focus is service and dependability when we are needed most. We continue to work as a team to ensure that you have what you need to be successful not only now, but well into the future.

For our current members, customers, and partners, a heartfelt thank you for the opportunity to serve you. If you have not experienced the new NGMA over the last few months, please take a look at this newsletter and our website at ngma.org to see the many resources including ramped up virtual offerings. And stay tuned for exciting updates and opportunities for feedback.  Feel free to reach out to us at [email protected] or [email protected].

Sincerely,




Andrew S. Goldschmidt, CAE
Executive Director
National Grants Management Association
[email protected]
www.ngma.org
202-308-3788
Connect with NGMA –  NGMA.org | Facebook | LinkedIn | Twitter

PPP Has Been Extended: July 29th Webinar - Only Two Weeks Left to Register

Wednesday, July 29  |  1:00 pm – 2:00 pm ET   |   Registration Required
FREE for Members!  |  Non-members only $174! (Includes a 1-year NGMA Membership)
$25 for Members to Purchase CPEs

The SBA's Paycheck Protection Program:
Challenges and Opportunities
Presented by Scott S. Sheffler, Michael B. Glomb, and Joseph P. Loman
of Feldesman Tucker Leifer Fidell LLP ("FTLF")



NGMA Virtual Grants Management Body of Knowledge Training Now in September

Virtual GMBoK Training  |  Wednesday, Sept. 16 - Thursday, Sept. 17, 2020
Deadline to register is August 31, 2020 for printed guide distribution
NGMA Welcomes New Members
Alicia Shepherd

Allan Burman

Angelia Johnson

Anna Shermeyer

Annie Fang

Autumn Grooms

Billy Starr

Charlotte Bruce

Christopher King

Courtney Elzey

Cydne Nash

Cynthia Robison

Heather Bercegeay

Kara Enyeart

Kimberly Glass

Lesia Porter

Linda Gilbertson

Lois Copeland

Marquia Sallet
NGMA Two Major Membership Campaigns

June 2020 Member-Get-A-Member Recruiter
of the Month Winner

Kathy Brunot, CGMS
University of Alabama

You could be next month's winner! 
Learn more and participate today: https://www.ngma.org/member-get-a-member


You Are NGMA
The work that we do at the National Grants Management Association (NGMA) is impossible without YOU – our members and partners who share in our commitment to the grants management community through industry excellence and innovation.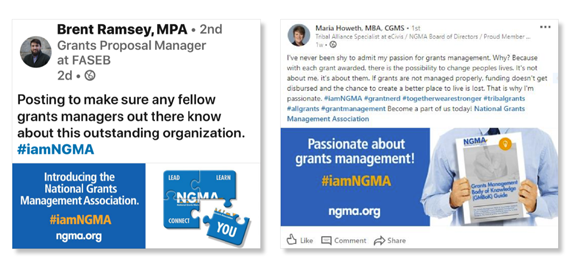 Register Today - Upcoming Chapter Events

NGMA Seattle  |  Thursday, July 16
NGMA Capital Area  |  Thursday, July 30
NGMA Dallas/Fort Worth  |  Thursday, August 13
NGMA CAPP Partner eCivis Releases Success Guide for Grants Management

eCivis, has just released the Top Trends in CARES Act Funding and Federal Grants Management. This handy 13 page guide is chock full of trends, tips, infographics and best practices.

Download the guide HERE

 

 
Share this post: